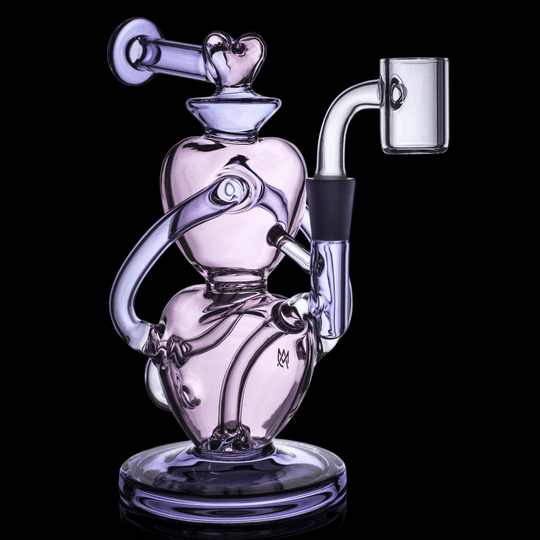 Valentine's Day Dab Rigs

Valentine's Day Dab Rigs
When love is in the air, it's time to reach for that one special rig that will commemorate your bond forever. After all, enjoying your dab rig before a romantic encounter can help you relax and connect with your special someone. And, couples who blaze together stay together. 
To celebrate your special day of love that only comes around once a year, MJ Arsenal crafts premium, limited-edition dab rigs for the Feast of Saint Valentine (AKA Valentine's Day). We've got a new lineup each and every holiday, so don't forget to check in often and don't miss out.
Holidays are Better With Dabs
Holidays are definitely better with dabs. When you're trying to plan out all the details of a holiday, it can be helpful to have something to look forward to relaxing with when you're done. Dabs help you get in the mood for the holiday and make everything a bit more enjoyable. Plus, they're a great way to start off the celebration.
When it comes to gift ideas for your loved one, go all out and get them something you can enjoy together. Glassware is the perfect gift for couples because it helps create a shared experience that brings you closer together. 
Not only are dabs a great way to get in the holiday spirit, but they also make everything more fun and festive. And, who knows? Maybe you'll find a new favorite rig with your special someone.
Our Specialty Glass Offers Superior Construction
MJ Arsenal has a commitment to excellent craftsmanship. All our Valentine's Day dab rigs are constructed with the utmost precision and care. Our limited edition items feature funky designs and are created with the same premium materials that ensure that your rig is built to last.
Our high-quality borosilicate glass is scratch-resistant and sturdy, ensuring a long-lasting piece that will bring you joy for years to come. We use only the finest laboratory-grade glass, ensuring purity and quality in every rig we make.
For Valentine's Day, we released an eye-popping new full-color lineup. These sleek, vibrant oil rigs are going fast, so don't wait to pick one up. They're the perfect way to commemorate your love for each other and everyone who has brought you joy this season.
Bella Mini Rig
The Bella Mini Rig is made with precision and care and is constructed with the utmost quality.
It's a double uptake rig with a reinforced downstem and heart-shaped basin. It also features a recycler and splash guard.
The Bella Mini Rig's beautiful pink borosilicate glass rig is sure to turn heads—and hearts. It's perfect for taking huge hits while maximizing flavor retention thanks to its enormous recycler chamber.
The rig's perfectly balanced air pressure will help add that extra kick to your dab sesh, while the long uptake stems allow you to hit it hard and heavy, but with a steady pull. 
Finally, the heart-shaped design is more than just a treat for the eyes—the shape helps the water drain smoothly back to the chamber, but it makes it easy to empty out when it's time to clean the rig.
Locket Mini Water Pipe
The Locket Mini Water Pipe is a beautifully crafted piece that is perfect for flower consumption.
It has an inner heart percolator with a protective sphere, and its sleek bent neck prevents splashback and improves ergonomics. Plus, it's easy to clean and comes in a variety of colors.
These thick glass pipes are perfect for those who want a smooth smoking experience. The inner heart percolator helps to diffuse your smoke and provides extra filtration, while the protective sphere helps to keep your glass clean. The bent neck also prevents splashback, making it easier and more comfortable to use. And with its colorful designs, the Locket is sure to add some style to your smoking experience.
The Smooch
The Smooch is a beautifully crafted bubbler that is perfect for enjoying your dabs. It has a diffused downstem for enhanced percolation, and its heart-shaped design is both beautiful and functional—it generates more effervescent bursting bubbles, and makes it easier to clean around the bottom. 
The carb hole is conveniently located on the back of the bubbler for airflow just below the bowl where your hand sits so you can operate with ease.
We couldn't decide if The Smooch was better suited as a blunt bubbler or a hand pipe, so we thought, "why not both?" 
We crafted a Smooch blunt bubbler and a Smooch herb bubbler. And, the heart shape is reminiscent of the tip of Cupid's arrow.
You can "smooch" your partner with the blunt bubbler or hand pipe for a romantic night to remember, or make it their Valentine's Day gift.
Pocket Heart Hand Pipe
If your partner prefers dry herb combustion, we've got beautiful Valentine's day smoking accessories for them.
The Pocket Heart Hand Pipe is a classic smoking tool for dry herb and tobacco usage that is perfect for quick and easy hits before your holiday celebration. It has a wide chamber that is easier to wipe out and clean than a spoon pipe, and its heart-shaped design is both beautiful and functional.
Champagne Spinner Cap
If you're looking to add a little extra flair to your dabbing experience, then we've got just the thing. The Champagne Spinner Cap is the perfect way to take your dabs to the next level.
It's an innovative accessory that spirals air over your dab, improving vapor production and reducing leftover oil.
The flat base sits flush on top of any MJA bucket for easy storage and portability. Pop a cap off the bottle and put a cap on your dabs to really step up the holiday excitement.
Show Your Partner (and Yourself) Some Love With New Valentine's Day Glass
With Valentine's Day right around the corner, you're probably wondering how to surprise your significant other with something more unique this year. The perfect gift will show them just how much they matter to you. So, gift the love of your life a quality rig that is guaranteed to impress. 
You can also show some love for yourself by treating yourself with the purchase of a new piece of glass. That'll make it an extra happy Valentine's Day.