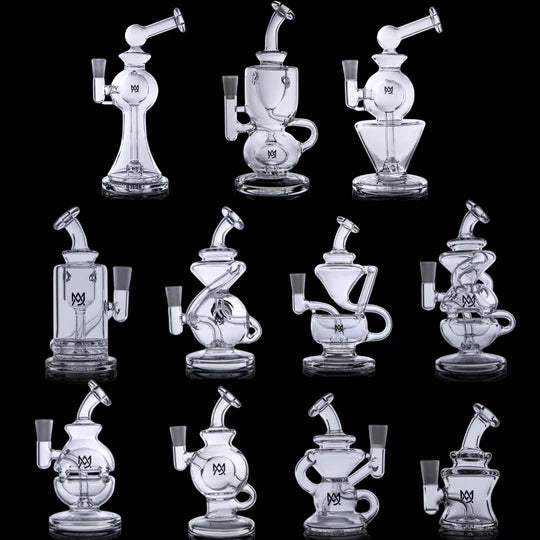 Picking Out a New Pipe
The pipe you choose plays a big role in your smoking experience, so you want to get it right. You need a pipe that smokes well, cleans easily, and tolerates the rough and tumble of everyday use.  And it doesn't hurt to pick out a pipe that looks good either.
Your pipe is more than just a tool for smoking: It's an extension of your personality, expressing your style and uniqueness. But not all pipes are created equal. Picking out the right pipe can be a daunting task if you're not sure where to start.
Buying cheap glass off the shelf is a gamble, but you can't go wrong with a glass water pipe or dab rig from MJ Arsenal. And to make sure you get the perfect piece for your pipe smoking pleasure, use this guide to picking out a new pipe.
Types of Pipes
There are a few different ways to make a tobacco pipe, but you're not going to have much fun with an old corn cob pipe or briar pipe. For a robust experience with the finest pipe tobacco blends, you want a borosilicate glass pipe. The best pieces a pipe smoker can buy are made of borosilicate glass, and are more complex than average corn cob pipes.
MJ Arsenal uses 100% borosilicate glass for all products in our pipe shop. But, a great pipe is more than just durable glass: The best pipe designs include chambers for water filtration. Pipes with a water chamber filter out harsh byproducts from smoke before it hits your lungs. And cooler smoke results in a more enjoyable experience that's easier on your body.
Of course, different pieces have different functions. If you vaporize wax or oil in a regular pipe, you'll suck the hot liquid straight through. That's why the pipe makers at MJ Arsenal offer mini dab rigs for concentrates, water pipes for flower, and innovative hybrid rigs that let you take your smoking and dabbing to the next level.
Mini Waterpipes
Waterpipes provide a smooth and pleasurable smoking experience. They're straight pipes with a large water chamber and a downstem connecting the bowl piece. The water-cooled stem and included percolators filter out the harsh byproducts of combustion and offer a super smooth hit. 
We offer mini water pipes for customers who want a high-quality flower pipe without breaking the bank. Each mini water pipe includes a flower bowl that matches the 10mm downstem.
Mini Dab Rigs
For concentrate users, our mini dab rigs are the perfect travel companion. These bent pipes resemble traditional glass water pipes – but with a few crucial differences in design.
Our mini dab rigs come with a quartz bucket that's extremely resistant to high temperatures. The opening in the bucket is near the top, while your concentrates vaporize in the hot dish at the bottom. This carefully-crafted design lets you inhale normally without sucking oil into your pipe.
Blunt Bubblers
A blunt bubbler is a mini water pipe with a flared opening made to hold a blunt or joint, offering more versatility for pipe smokers. With the option to take quick puffs off of your roll or longer, slower draws off of the filtered bubbler, you can enjoy a much longer, larger session than you can with a regular bowlpack.
Vape Bubblers
An all-new innovation from MJ Arsenal, vape bubblers are just what they sound like: tiny dab rigs that provide the smoothness of water filtration with the convenience of a vaporizer. 
These tiny, easy-to-carry pieces give you the best of both worlds without sacrificing style, and they're some of our most inexpensive pieces to date.
We've taken three of our mini dab rigs and reworked the receiver piece. Instead of a dab bucket, you can insert the end of a vape cartridge into the receiver. Fire the battery and pull through the vape bubbler for the smoothest, most flavorful vaping experience you've ever had.
The Martian Original Blunt Bubbler
Light up with luxury and advanced smoking technology with MJ Arsenal's Martian Original Blunt Bubbler. 
An out-of-this-world bubbler is perfect for almost all rolled items and offers a spill-resistant design, one-hitter function, and ergonomically placed carb hole. Its sleek, pendant hook makes it easy to take on the go, while its directional airflow cap ensures a smooth smoking experience.
The King Blunt Bubbler
Introducing The King Blunt Bubbler by MJ Arsenal: This top-of-the-line bubbler is perfect for anyone who wants to enjoy a smooth, luxurious smoking experience. 
With a spill-resistant design, unique double-slit function, and ergonomically placed carb hole, this piece has everything you need to get the most out of your session. Additionally, using a normal and directional airflow cap allows you to customize your experience however you like. So grab yourself The King Blunt Bubbler and blaze on.
Cache Mini Waterpipe
Cache by MJ Arsenal is the perfect way to keep your flower dry, fresh, and always at your side.
This mini water pipe features a built-in jar for convenient storage, making it the ultimate choice for on-the-go use. Elevate your vaping experience with Cache – the luxurious way to enjoy dry herb.
Saturn Mini Waterpipe
Take a trip to the stars with MJ Arsenal's Saturn water pipe.
This luxury piece is out of this world, featuring a sleek design and innovative function that will make you feel like you're floating among the planets. With its terp-infused flavor, this pipe is sure to send your vaping experience into orbit.
Apollo Mini Dab Rig
Experience the celestial wonders of Saturn with MJ Arsenal's Apollo Mini Dab Rig. 
This high-tech water pipe is a visually-stunning piece and provides unparalleled function for even the most discerning user. Whether you're a novice or an experienced dabber, the Apollo Mini will take your smoking experience to new heights. Buckle up and blast off into orbit.
Gemini Mini Dab Rig
MJ Arsenal's Gemini Mini Dab Rig is yet another perfect way to enjoy your concentrates.
It includes an inverted cone base to minimize water and maximize your terpenes, and a double ball upper feature that filters your vapor twice. After all, less air means more flavor. It's also luxuriously handcrafted, making it a beautiful addition to any collection.
Atlas Mini Dab Rig
The MJ Arsenal Atlas Mini Rig is the perfect choice for those looking for a simple and flavorful dabbing experience.
The double ball design serves as both an aesthetic and functional feature, ensuring smooth and tasty vapor with every hit.
Claude Mini Dab Rig
MJ Arsenal's Claude Mini Dab Rig is the perfect choice for those looking for a dab rig that packs a punch. 
With a turbine-creating double uptake pipe recycling design, this dab rig is sure to deliver smooth and flavorful hits. This dab rig is made with high-quality materials, making it durable, stylish, and the perfect addition to your smoking collection.
Hydra Mini Dab Rig
If you're looking for a small and discreet dab rig, MJ Arsenal's Hydra Mini dab rig is perfect. The design is especially beneficial for those who want to enjoy powerful dabs in a small space.
This klein recycler rig is made with high-quality glass and packs a punch, offering smooth, delicious hits.
Infinity Mini Dab Rig
MJ Arsenal's Infinity Mini Dab Rig is the perfect choice for anyone looking for a luxurious, high-quality dabbing experience. 
This rig features two unique functions in one mesmerizing design, making it the perfect choice for any dab lover. With its elegant fab egg style and double uptake recycler function, this mini dab rig provides a smooth experience that you won't forget.
Jammer Mini Dab Rig
MJ Arsenal's Jammer Mini Rig is perfect for those looking for an inconspicuous and portable dabbing experience. This sleek, stylish rig is made with high-quality materials and fits comfortably in your hand, making it easy to take with you wherever you go. 
The Jammer features a powerful chugging action that will deliver big hits every time.
Mini Jig Mini Dab Rig
MJ Arsenal has outdone themselves again with the Mini Jig. 
This dab rig is both a recycler and a storage jar in one, making it the perfect all-in-one solution for convenient dabbing. The borosilicate glass design makes it look and feel high-end, while the storage compartments make it extra functional.
Royale Mini Dab Rig
MJ Arsenal's Royale Mini Dab Rig is the perfect way to enjoy your concentrates. 
This elegantly designed dab rig features a fab egg style that allows for great air flow and secondary water filtration, ensuring smooth, flavorful hits every time. Plus, its ergonomic design makes it easy and comfortable to use.
Titan Mini Dab Rig
The MJ Arsenal Titan Mini Dab Rig is the perfect addition to your smoking collection. 
This dab rig, featuring added stability and a larger water chamber for our most impressive function yet, is sure to satisfy those looking for a more substantial rig.
Ursa Mini Dab Rig
MJ Arsenal's Ursa Mini Dab Rig is the perfect choice when you need a high-quality, yet portable and affordable, dabbing solution.
This rig is made with premium borosilicate glass and features an impressive function that will make your dabs taste amazing. Plus, its spill-resistant design ensures that you'll be able to enjoy your dabbing experience worry-free.
Upgrade Your Smoking Gear Today
MJ Arsenal has the perfect dab rigs and tobacco pipes at unbeatable prices, so you can find the right new smoking gear for your collection. The quality craftsmanship ensures you'll enjoy smoking or dabbing, while the functionality will make sure every hit tastes good. Check out our selection and find the right smoking pipes for you.