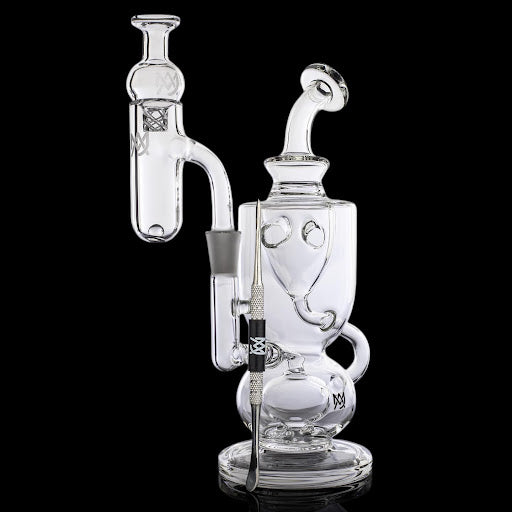 Dab Rig Maker MJ Arsenal Acquires CropCorp.com
Looking for CropCorp? Premiere glassware provider MJ Arsenal has acquired CropCorp.com. The acquisition will accelerate growth and enable the company to offer a wider range of products, while also being environmentally friendly. 
CropCorp started as an investment company in Nevada before expanding internationally to serve customers across the globe. Now, CropCorp will serve as a subsidiary of MJ Arsenal, continuing their legacy while also supporting more brands and customers (21 years or older).
MJ Arsenal serves the smoking and vaping industries with high-quality glass pipes, water pipes, e-rigs, dab rigs, and smoking accessories. The company is an industry leader thanks to its innovative line of glass dab rig and e-rig products, careful attention to the entire user experience, and focus on customer service. This acquisition is another step in expanding their focus on a 360-degree customer experience.
Glass Dab Rigs: A New Direction for CropCorp
Despite many new companies entering the industry, MJ Arsenal's expansion plans are not driven by market share. The glassware company sees room for more brands to emerge and adapt their strategies to serve consumers with unique experiences, rather than compete on price or volume. 
CropCorp's strategic partnership with innovative cannabis brands has laid the foundation for success. CropCorp will not continue operations the same as before. But, CropCorp will now be able to provide its high-quality products and expertise to MJ Arsenal's existing infrastructure.
Who is MJ Arsenal?
MJ Arsenal is a premier provider of smoking and vaping glassware. The company offers a line of oil rigs and pipes with water filtration, dab rigs, and other accessories for those who enjoy the finer things in life. They also offer a wide range of products for cleaning, maintenance, and other accessories.
MJ Arsenal.com is dedicated to developing long-term relationships with customers and community partners by delivering high-quality products, superior customer service, and innovative product designs.
The company is committed to serving the needs of every customer by providing an exceptional experience for each member of our growing family. MJ Arsenal also enhances communities through programs that raise awareness of local needs, protect the environment, and support sustainable development.
MJ Arsenal Provides the Best Dab Rigs to Customers Worldwide
MJ Arsenal has a rich history in the smoking and vaping industries. The company has worked with some of the largest names in the industry to develop innovative product designs that keep users safe, preserve flavor, and enhance their overall experience. 
MJ Arsenal's mini dab rigs have been a hit with those who enjoy concentrates, as have their specialty high-grade borosilicate glass pipes.
The company also provides a variety of dab accessories to meet the needs of every consumer and industry professional. Consumers can purchase directly from their website, and vendors can contact the wholesale team for more information. Free shipping is available for orders over $50.
In addition to providing the best dab rig online today, MJ Arsenal crafts artisan water pipes, including unique perc designs, special edition releases, and high-performance features. Each pipe is made in the USA with high-quality borosilicate glass and comes with the matching quartz banger to use right out of the box.
Consumers can upgrade their rigs with quartz nails featuring fully-fused dab nail joints and larger bucket sizes to fit any water pipe. MJ Arsenal's experienced team of artisans provides the best user experience possible, which they accomplish through a deep personal connection to the product.
New water pipes are released throughout the year as the company works to develop new products that meet the needs of those who enjoy smoking and vaping.
We celebrate artistry in glassmaking by releasing unique, limited collections that deliver heightened smoking experiences. MJ Arsenal's limited edition recycler dab rigs sell out within days of release. So, consumers looking for limited edition rigs for sale should buy a dab rig as soon as possible after launch.
What's Next?
For now, consumers can visit their website and purchase products or browse through a growing line of high-quality wax rigs to find the perfect piece for any collection. Readers can also visit MJ Arsenal's Complete Guide to Dab Rigs to learn more about MJ Arsenal products. But, MJ Arsenal will provide more information about the acquisition in the future. 
The company continues to serve its customers and community partners with innovative products and superior service, so they look forward to discussing the future of their products with consumers ready for next-level smoking and vaping experiences.